31 December 2021
How to find out your home's energy rating?
House2GreenerHome – Your Complete Guide to Energy Efficient Home Improvements  

When it comes to measuring how warm or cosy our home might be, we might tend to judge it by how early in the year we need to turn on the heat or how many layers of clothes we need to wear to feel comfortable. While these options will certainly give you a steer, this is a more accurate answer.
 
A Building Energy Rating (BER) certificate indicates your homes energy performance. It is similar to the labels which you might see on your fridge, washing machine or other household appliances.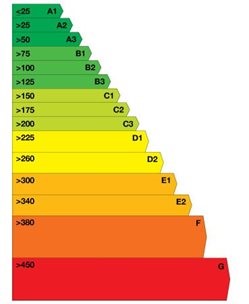 BER Energy Chart

A BER certificate rates the energy performance of your home on a scale from A to G. A-rated homes are the most energy efficient and will tend to have the lowest energy bills. Homes which are G-rated are the least energy efficient and likely to be draughty and cold. You can view a sample of a BER cert here.
 
It is compulsory in Ireland when selling or renting a property to show the energy efficiency/ BER rating.
 
The Energy Performance Certificate (EPC) is a similar measure which is used for homes in Northern Ireland (NI). You can view a sample of an EPC here.

How is a BER calculated?
A BER is calculated through energy use for space and hot water heating, ventilation, and lighting. The number of people likely to occupy a building is also taken in consideration ( based on the average number of occupants in buildings of a similar size).

The Dwelling Energy Assessment Procedure (DEAP) is the official method for calculating the Building Energy Rating of new and existing dwellings. DEAP is used by registered BER Assessors to calculate the BER of new and existing buildings and to demonstrate compliance with aspects of the Building Regulations. 

How to find out if your home has a BER
If you're not sure if you home has already had a BER carried out, it's quite easy to find out. Using your MPRN (a unique 11 digit number assigned to your electricity connection and meter – you should find it on your electricity bill), you can search the SEAI National BER Register to check if your home already has a BER rating. 
 
A BER Cert is valid for 10 years providing there are no significant changes to the building that could affect the energy rating.

How can you find a BER assessor?
BER assessments are carried out by SEAI registered BER Assessors. A list of SEAI registered BER assessors can be found here.

How much is a BER cert?
The cost of a BER will depend the type and size of the home.  There is no set fee but the cost tends to start at €150 + VAT.It is recommended that you shop around to find the best deal and to ensure you're satisfied with the assessor you select.
 
The SEAI provides a BER grant of €50 towards a BER Assessment for homeowners. If you are approved for the grant, you must complete the works and submit the paperwork within 6 months from the date of the grant offer.

What do you need to do to prepare for a BER Assessment?
If you are arranging to have a visit from a BER assessor, there are a number of things which you can do to prepare.

Have a copy of any previous BER assessments to hand.

Provide the assessor with any drawings or plans you might have of the home

If your home has had upgrades carried out in recent times, provide details to the assessor

If you have details of your boiler or other heat sources, it's helpful to provide this to the assessor

If you home has had upgrades to windows or doors, this information will also be useful to provide. This could include the type of glazing used, u-value etc
What is a good BER rating?

In the past twelve years (from 2009 to March 2021), more than one million BER surveys have been carried out. The Government has set ambitious targets that 500,000 homes will be upgraded to an energy rating of B2 or better. In 2019, four out of five Irish homes (and other buildings) had a BER rating of C or lower. It's clear that there is a lot of work to upgrade Irish homes to reach these targets.

About our Loan
Terms of up to 10 Years Available
Loans Ranging from €20,000 to €100,000
Extremely Competitive APR of 5.99%
Quick and Easy Online Application
Flexible loan repayments.
Quick decisions within 24 hours
Free loan insurance
No minimum savings or membership period
No penalties for early repayment

Back to News